WHAT IS NIACINAMIDE?
Niacinamide, also known as (niacin) and (nicotinamide) is an important lipid-altering, water-soluble component of the vitamin B complex. Niacinamide is a form of vitamin B3 which is an essential nutrient. A B3 deficiency can lead to disorders of the skin, kidneys, and brain. Taking niacinamide can help prevent B3 deficiency.
WHAT DOES IT DO?
In a preliminary double-blind, placebo-controlled study, the study indicated that niacinamide improved the global impact of osteoarthritis by reducing inflammation and increasing joint mobility to the point the subjects could take less non-steroidal anti-inflammatory medications (NSAIDs) to control arthritis pain.
HOW DOES NIACINAMIDE HELP JOINTS?
Dr. Kaufman pioneered the use of niacinamide for osteoarthritis in the 1940s and reported on his results in the groundbreaking 1949 book, The Common Form of Joint Dysfunction: Its Incidence and Treatment.
Dr. Kaufman also noted that many times with the first 10 minutes, an intensely niacinamide-deficient person's hands and feet changed from a sallow yellow complexion to a healthy pink color and actually felt warmer, both to the person him or herself and to the examining clinician.
Dr. Kaufman detailed his observations of niacinamide therapy in individuals with both osteoarthritis and rheumatoid arthritis. He found that most experienced significant improvement, and, as he stated, "as long as niacinamide is continued, the improvement 'holds'…
When asked how niacinamide helps with joints, Dr. Kaufman explained, "niacinamide has the special capacity of "wringing out" excess fluid from cartilage and connective tissue. [It] is also anti-inflammatory."
WHAT MAKES OUR CREAMS UNIQUE?
Our Skin Delivery System
Our Pure Bio-Actives
Our Natural Preservatives
Our Airless Dispenser
HOW TO USE:
Apply (1-2) pumps daily on cleansed skin, continue until fully absorbed.
Apply to body locations experiencing bone-on-bone, ligament or joint pain as well as areas exhibiting symptoms of arthritic inflammation.
Avoid layering multiple creams on top of each other or with other non-liposomal creams. See "Body Chart" for all recommended application areas.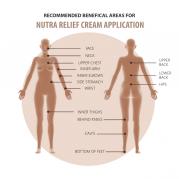 BIOACTIVE INGREDIENTS: Niacinaimde
NATURAL PRESERVATIVES: Cocos Nucifera (Coconut) Fruit Extract,
WARNINGS:
If you are under medical supervision, seek the advice of your physician or health care professional prior to use. Do not use if sensitive or allergic to any ingredient. Keep out of the reach of children. For external use only. Store out of direct sunlight in a cool dry place. These statements have not been evaluated by the Food and Drug Administration. This product is not intended to diagnose, treat, cure or prevent any disease.
Regular Price: $56.00
Sale Price: $50.40 (per unit)