Vitamin B12 is also called Methylcobalmin, it is a water-soluble vitamin that has a key role in the normal functioning of the brain and nervous system, and the formation of red blood cells. It is one of the eight B vitamins. It is involved in the metabolism of every cell of the human body, especially affecting DNA synthesis, fatty acid and amino acid metabolism. No fungi, plants, or animals (including humans) are capable of producing vitamin B.

Liposomal Bioactives: Vitamin B12 (Methylcobalamin) and Lecithin (Nootropic). Vitamin B12 as a nootropic vitamin is one of the 8 organic B vitamins. Our Liposomal B12 Cream is formulated using our Registered and Trademarked Certified Liposomal Delivery Technology (LDT).
Dosage Amount:
• 250 micrograms per ¼ measuring tsp
• Approx. 2 pumps
How To Use:
Massage (1-2) pumps daily on cleansed skin, continue until fully absorbed.
Apply to any of these skin options: inner arms, upper or lower chest, inner thigh, calf's, abdomen or bottom of feet.
Apply Vitamin B12 ONLY in the morning as it may give you energy and therefore keep you up at night.
All creams can be applied to the body at the same time however, apply on different skin areas. Avoid layering creams on top of each other or with other creams.
See "Body Chart" for all recommended application areas.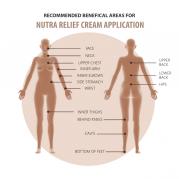 Regular Price: $46.00
Sale Price: $41.40 (per unit)