Glutathione is critical for immune function and controlling inflammation. It is the master detoxifier and the body's main antioxidant, protecting our cells and making our energy metabolism run well.
Glutathione Benefits:
• Maintains energy production
• Strengthens immune system
• Detoxifies toxins in liver & cells
• Improves mental focus & clarity
• Improves quality of sleep
• Reduces the effects of stress
• Improves the skin
• Enhances athletic performance
• Over 100,000 studies on Glutathione at online research database site PubMed.
Source: https://pubmed.ncbi.nlm.nih.gov/
How To Use:
Massage (1-2) pumps daily on cleansed skin, continue until fully absorbed.
Apply to any of these skin options: inner arms, upper or lower chest, inner thigh, calf's, abdomen or bottom of feet.
All creams can be applied to the body at the same time however, apply on different skin areas. Avoid layering creams on top of each other or with other creams.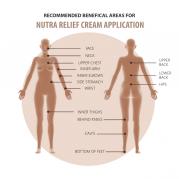 Liposomal Bioactives: Glutathione, Acetyl-L-Cysteine, Glucosamine Sulfate, Vitamin B-3 ( Niacin), Vitamin B-12 (Methylcobalamin), Vitamin B-9 (Folinic Acid)
Warnings:
If you are under medical supervision seek the advice of your physician or health care professional prior to use. Do not use if sensitive or allergic to any ingredient. Keep out of the reach of children. For external use only. Store out of direct sunlight in a cool dry place.
These statements have not been evaluated by the Food and Drug Administration. This product is not intended to diagnose, treat, cure or prevent any disease.
Regular Price: $56.00
Sale Price: $50.40 (per unit)